Aromaleigh
is a very well-established company that's been running for 11(?) years, i think.
They have TONS of awesome colors. So many shades and limited edition collections. They also carry lip and face products. Really good stuff.
This is part 1 because there are a LOT of colors here, I ordered tons of samples, so I'm just going to split it up.
1. Boiling Point
2. Spellbound
3. Helterskelter
4. I See Red
5. Kiss
6. Psyche
7. Underworld
I also recieved a free sample of Nuance lipstick.
Photoz! Swatched over UDPP.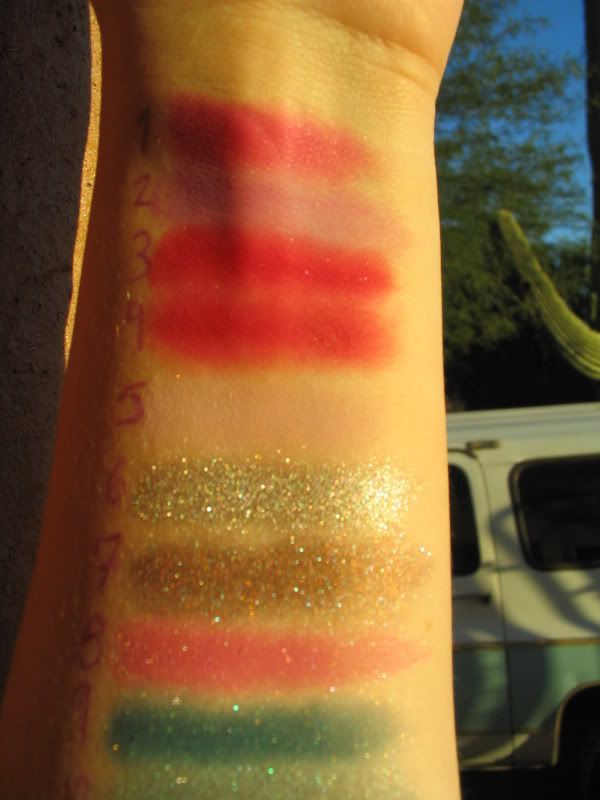 Boiling Point is nice. It's a strong, deep pink color. It doesn't have much shimmer but it isn't matte. I love pinks, so this is a great addition to my collection and I think I'll buy it full sized.
Spellbound is a very pretty purple. It goes on a little lighter than what it looks like in the package. Again, between a matte and shimmer.
Helter Skelter is an awesome red. I adore red eyeshadow, it looks awesome on me, so this is a great one. It's incredibly strong and pigmented.
I See Red is very similar to Helter Skelter, but ever so slightly lighter.
Kiss is similar to Spellbound, but absolutely matte and lighter. I don't usually like matte colors but I thought I'd give it a try, and I do like it. The photos don't show it well, it does show up a lot more than what you see =P
Psyche is one that I saw people making a fuss about, so I snagged a sample. It's a pretty silver with multicolored sparkle in it- very very nice and it goes on easily, and covers smoothly. I love this color!
Underworld is like Psyche, but more brown/reddish.
Nuance (which I don't have pictures of, sorry!) is essentially the color of my lips but a little darker and somewhat brown. I saw the sample and went "i'll never wear that, psh" but then I tried it and went OMFGWTFBBQ! It looked really great on me, so I ordered a full size! Thanks Aromaleigh!!
Conclusion will be at the end of part 2
Lizzy